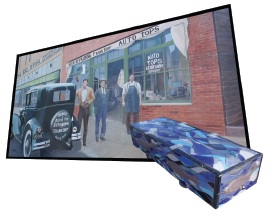 Oregon City Mural and Art Tour
Adults: $15.00 13 and Under: $12.00
Join us as we take a look at some of Oregon City's public art as we stroll through the McLoughlin Neighborhood and Downtown. We will visit the Oregon City Elevator, where guests will view Micheal Asbill's "Elevations in Transition" before descending to explore Oregon City's Main Street as we follow the "Trail of Murals", created by the Mural Society to celebrate the region's earliest pioneers. Your guide will also point out our prominent new additions on both levels of the city, including Adam Kuby and Brian Borrello's "The Falls" sculptures on the Willamette Terrace, Lee Kelly's "Moontrap" at the base of Singer Falls, Nick Thomas's "Future Flow" at the City Hall Entrance and Seattle sculptor Brandon Zebold's "Willamette Compass" outside the Clackamas County Courthouse. The tour will also include some unique city treasures including Atkinson Church's Povey Windows, WPA Rock work and the Bridge Obelisk.
Tour lasts about 2 hours, starting and ending outside the Carnegie Center, 606 John Adams St.
Private tours can be scheduled on evenings or weekends throughout the year. We prefer groups of at least 8 or more. (If your group has less than 8 people we ask that you schedule your tour a month in advance so we can promote it so we can open it up to other groups as well.)
Reservations required by TEXT or E-mail:
Text your reservation to: 503-679-4464
Email your reservation:
reservations@walkoregoncity.com
(Reservations should be made at least two weeks in advance.) Guests will be sent a link by email and will be able to purchase their tickets online.