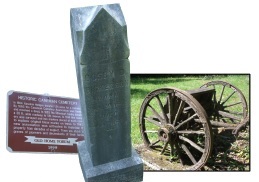 Canemah Neighborhood & Cemetery Tour
Adults: $15.00 13 and Under: $12.00
Join us for a walk through Canemah, Oregon City's oldest neighborhood. Canemah holds a unique place in Oregon's history as the boat building center and was home to many boat captains. Explore Old Canemah Park, the site of the first public amusement park in the country, sitting on the cliffs above Willamette Falls. Hear amazing stories from the steamboat days and walk the land that was site to a Native American encampment called kanim or "canoe place". Guest will get to see New Canemah Park and walk and old wagon road through Metro's Canemah Bluff Area. Towards the end of the tour guest will be able to explore the historic Canemah Cemetery

.
Tour is about 2 hours, starting and ending at Old Canemah Park, 150 3rd Ave.
Private tours can be scheduled on evenings or weekends throughout the year. We prefer groups of at least 8 or more. (If your group has less than 8 people we ask that you schedule your tour a month in advance so we can promote it so we can open it up to other groups as well.)
Reservations required by TEXT or E-mail:
Text your reservation: 503-679-4464
Email your reservation:
reservations@walkoregoncity.com
(Reservations should be made at least two weeks in advance.) Guests will be sent a link by email and will be able to purchase their tickets online.