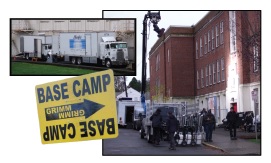 The Reel Oregon City TV & Movie Location Tour
Adults: $15.00 13 and Under: $12.00
When people think of movies and television shows they usually think about Hollywood, but Oregon City has had it's share of spotlight as well. The first movie shot in Oregon City was released in 1919 and in 1962 an episode of Route 66 aired featuring many sites in Oregon City. In 1989 Oregon City was "The Land of Hope" in the feature film, Hommer and Eddie staring Whoopi Goldberg and James Belushi. A few other film projects followed, but Oregon City became a focal point for filming after the 2001 release of Bandits, staring Bruce Willis and Billy Bob Thorton. This 2 hour tour will take you to TV and Movie locations in Downtown Oregon City and the Mcloughlin Neighborhood. Guests will see where scenes were filmed from several television shows including Nowhereman, Leverage and Grimm. The tour will also visit filming locations for several feature films including The Hunted, Nearing Grace, Twilight, Management and many more as guests hear great behind the scene stories of some of Hollywood's most popular actors and actresses including Angelina Jolie and Jennifer Aniston.
Tour lasts about 2 hours, starting and ending outside the Carnegie Center, 606 John Adams St.
Private tours can be scheduled on evenings or weekends throughout the year. We prefer groups of at least 8 or more. (If your group has less than 8 people we ask that you schedule your tour a month in advance so we can promote it so we can open it up to other groups as well.)
Reservations required by TEXT or E-mail:
Text your reservation: 503-679-4464
Email your reservation:
reservations@walkoregoncity.com
(Reservations should be made at least two weeks in advance.) Guests will be sent a link by email and will be able to purchase their tickets online.