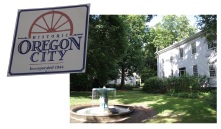 Historic Oregon City Tour
Adults: $15.00 13 and Under: $12.00
Join Northwest Walking Tours as we explore the history of Oregon's first capital and the oldest incorporated city west of the Mississippi River. We begin our tour at the home of Dr. John McLoughlin, the Father of Oregon and the founder of Oregon City. We will then visit the sites of many of the City's history making locations. This two hour walking tour combines elements of both the McLoughlin Neighborhood and Downtown Oregon City, including Oregon City's "Vertical Street" and the Grand Stair Case. The tour schedule is set so that visitors have time to enjoy the McLoughlin House and Barclay House either before or after the walking tour. The two houses are currently owned by the National Parks Service and are operated with the vital assistance of the McLoughlin Memorial Association. Admission to the McLoughlin House is free and visitors can enjoy the Gift Shop at the Barclay House.
Tour lasts about 2 hours, starting and ending at the Ermatinger House at 619 6th St.
Private tours can be scheduled on evenings or weekends throughout the year. We prefer groups of at least 8 or more. (If your group has less than 8 people we ask that you schedule your tour a month in advance so we can promote it so we can open it up to other groups as well.)
Reservations required by Text or E-mail:
Text your reservation: 503-679-4464
Email your reservation:
reservations@walkoregoncity.com
(Reservations should be made at least two weeks in advance.) Guests will be sent a link by email and will be able to purchase their tickets online.